Modified Date: 11/9/2018 | User Level: Regular User | Views: 2,631
Summary
Search and Replace is a very powerful tool. Therefore it is also the most dangerous. I don't say this lightly. One must use it with caution. I'll cover everything about the Search and Replace module and why it's so powerful and dangerous in further detail in this KB article. The contents of this KB Article are as outlined below:
Search and Replace

A Word of Caution

How to Perform a Search and Replace
A Word of Caution
What is so powerful and dangerous about this tool? Well in short it has to do with the scope of the search itself. The scope over which it searches is not just text that is viewable on the site. It also searches the code that generates the site. Now this is great if you know exactly what needs to be replaced. You must also know that what you're searching won't find anything that you don't want to replace. Very quickly a poor Search and Replace can result in a broken site if in the wrong hands. For that reason permissions for this module are reserved for very experienced users.
How to Perform a Search and Replace
To start simply click on the Search and Replace module. After doing so you'll see something like this: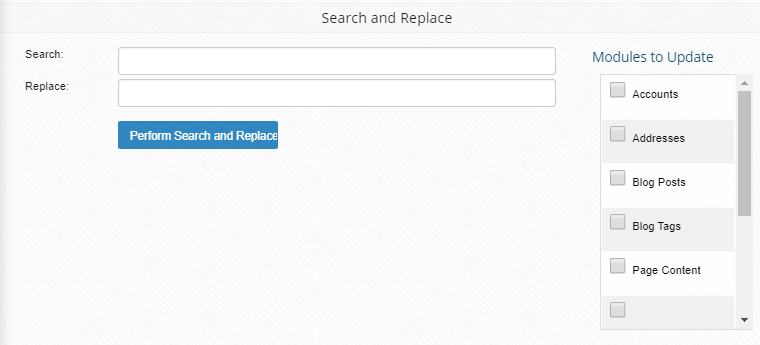 There are two fields, Search and Replace, to fill out. On the right side there's a list with the header of Modules to Update. From there you can select from what modules you're searching. When you have done those things simply press the "Perform Search and Replace" button. At this point the search is performed.
Latest Fawkes CRM KB Articles