Local Organic Search Engine Optimization (SEO)
What does Fawkes Digital Marketing do when we maintain your monthly organic SEO
For you, the smart and savvy business owner, you understand the importance of marketing. You know that SEO is a marathon and not a sprint. Organic SEO focuses on making your website better and meeting the needs of your current and potential customers.
Each month we do the following items to make your business show better and stand strong on page one of the search engines. Google has stated that 92% of all searches select results on page one.
Running a "technical SEO" audit that identifies areas, we should focus on to meet the search engine best practices.
We update your WordPress or other website based on the technical audits and updates that have come out for your content management system.
We fix spelling errors, core web vitals, speed improvements, and make sure every page and image has good SEO best practices being done on them.
We analyze the keyword phrases you want to be found for, create content, or use the content you've created to fill gaps in making you perform better.
We look at what your competitors are doing, how they're doing it better, and incorporate items that help you grow.
We provide executive owner reports so that you can see the performance of your website and digital marketing efforts.
How Organic SEO Beats Out Paid Ads
When you pay the search engines to show ads or PPC, businesses focus on the ads rather than the website. Organic SEO, you focus on providing an easy-to-use experience, provide valuable content on the entire website, and adjust for the needs of your current and potential customers.
Our Search Engine Optimization Process
There is nothing secret when it comes to search engine optimization. It takes a lot of hands-on hard work to get the job done. We believe in being as transparent as possible in giving you our processes. SEO is a process that will never end and must continually be worked on if you want to continue to get the results you want.
Auditing
We start with auditing your website. This audit us a technical SEO audit that shows us everything on your website that needs improved, in-depth keyword data analysis, and competitive analysis with the competitors you've provided to us. This information gives us a starting benchmark for all of our data analysis. We look at your website's site structure, the written content, backlinks, and fix any issues that would prevent you from being fully accepted by the search engines.
Analytics
We look to see who is coming to your website, your website visitor demographics, and see where they are going within your website. We then look at the current analytics and heatmapping software on your website. If you're not using these two valuable tools, we start by installing them so we can start gathering this insightful data so we can provide you with the best solution. This information helps report progress and improve your website to get more leads.
Strategic Development
Strategic development is all about understanding the data and how to improve your website lead generation and conversions. We look at not only your nearby competitors but the leaders in your industry. We look at your brand and the strategic goals you've provided to us to come up with a winning plan. We then develop a comprehensive SEO strategy that we custom-tailor to your needs.
Implementation
We now begin to implement everything from visitor conversion goals, continual improvements recommended for the search engines, local citations, and content creation to move you ahead of your competition.
Tracking & Reporting
We track your progress throughout the SEO campaign to ensure that the changes implemented to produce the desired results.
Repeat
We make changes where necessary to further fine-tune the results to give you continual improvements.
Building local organic SEO citations for each location
Citations are links from reputable websites back to your site. The easiest way to think of citations is that they are the modern version of the Yellow Pages. We don't dig into paper copies of the yellow pages to find businesses anymore.
We build citations from authoritative sites that consistently maintain your NAP or name, address, and phone number. These authoritative organic SEO resources can increase the visibility of your business. Citations are often found in the following formats and need to be consistent:
Company name
Company phone number
Company address
Company name and phone number
Company name, phone number, and address
Company name, phone number, address, and website
Company name and website
Organic SEO Citation Setup Information
As we build out your citations for your business, we always like to look at how long they take and the information we provide for you. Once a citation is initially set up, they are quick to update. Updates to setup citations take minutes to a few hours to be updated. This is great as you will have your hours on most citation sites, images showcasing your products and services, description of your business, and pictures of your team working.
Day 1 - Campaign started, we add you into our CRM (Customer Relationship Management) system, create spreadsheets for tracking, and set a schedule for the team member(s) that will be working on your project.
Days 2-4 - Pre-submission data accuracy check where we have two people verify everything that will be submitted so that we have the most accurate data. This does require the information to also be verified by you.
Days 4-9 - Submissions to the specific search engines, social media platforms, and directories to be listed on.
Days 9-14 - Campaign QA checks completed. Another team member verifies everything that was submitted and that it was submitted exactly as expected.
Days 15-23 - 1st live listing check completed and report updated.
Days 24-38 - 2nd live listing check (more links added to campaign report) and verified.
Days 39-60 - 3rd live listing check (remaining live links added to report) and verified.
Day 61 - The Excel spreadsheet we are working off of is provided with references to everything completed and anything currently outstanding.
Organic SEO and Local SEO Marketing
Organic SEO is getting your business to show below and above the paid ads. Local SEO is when you optimize your website for queries that a person might type in. Often, the goal is to rank your business for keyword phrases like "your service/product" with your "city or city/state" in the query. By focusing on the local organic SEO you can showcase that you have the best products and services within the area.
Examples of organic SEO searches

SEO in Michigan City, Indiana
SEO in Valparaiso, Indiana
web design near me
restaurants near me
emergency plumbing services michigan city indiana

Organic local SEO is usually hyper-competitive, and you want to outperform your competition. We look at trends by looking at analytics and mining the available data. With this information, we modify your website to make it highly optimized for each of the local markets you want your business found in.

As we work on your local SEO these are the tasks that we update:

Keyword Research – We look at the most relevant keywords that apply to your business, that your competitors are using, and the ones that will generate the most organic traffic.
Content Optimization - We will optimize the content on the site to be more optimized for the keyword phrases that you wish to be found for.
Optimization Optimizations - We will check on the SEO health of your website. The number of inbound links, outbound links, on-page links, robots.txt, duplicate content issues, and other factors that will affect your SEO campaign.
Schema Markup - We utilize all of the available schemas that are supported by schema.org to provide the best website markup for your SEO.
Bad Link Cleanup - We will fix any broken links on your website. We also will work on removing and disavowing any links outside of your website that may hurt your chances of reaching your SEO campaign results.
XML Sitemaps - We make certain your XML sitemap is properly structured, contains all the right pages, and is accurate.
Image optimization (sizes, alt text, title tags, filename, and more)
Review & Reputation Marketing
An area often missed when it comes to any SEO is focusing on getting reviews for your business. Reviews are the "word of mouth" the search engines have available to learn about your business. There are many aspects to reputation management, and when done well, it can give you a significant boost to add revenue to your business's bottom line.
Collect reviews via customized "review funnel" landing pages and widgets
Embed review collection widgets on business websites, social pages, etc.
Mobile-optimized customer experience through the review generation funnel
Generate reviews on targeted major, local and industry sites
Segment positive vs. negative feedback to pre-empt negative reviews
Guide customers with clear instructions and conversion triggers review sites
Engage customers with coupons and offers to make them more engaged
Customize email and text message campaigns, templates, timing and sequence
Automate sending, follow-up, removal and de-duplication of campaign recipients
Measure performance with open, click and conversion tracking
Collect reviews on-location with compliant "kiosk mode"
Monitoring of major, minor and industry-specific review sites for new reviews
Get review alerts or send to clients or staff based on custom criteria
Replying to all reviews using best practices to give each review more value and organic SEO benefits
Auto-share positive reviews (including images) to social media profiles
Stream your latest and greatest reviews to your website
SEO-friendly rich-snippet/schema markup for reviews and aggregate rating
For more information and details about our review and reputation offering click here.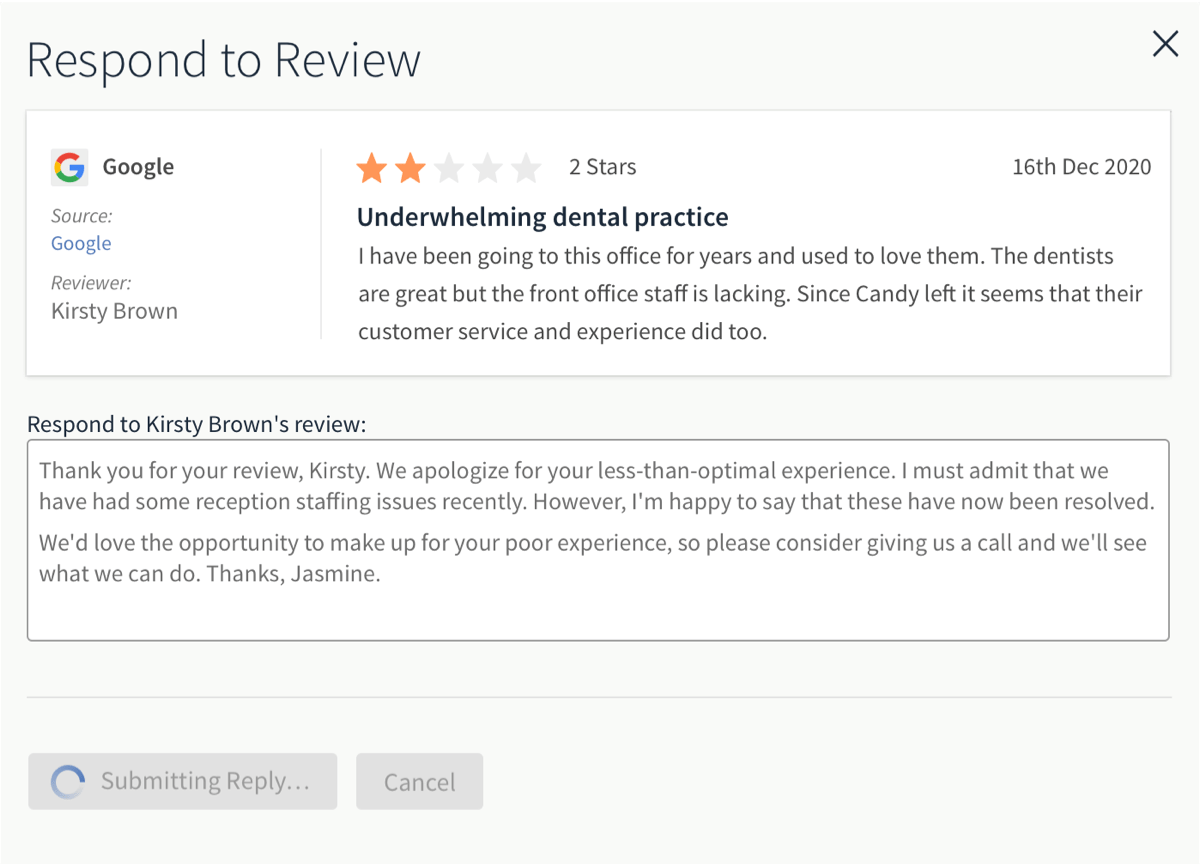 Content and Press Releases
With paid ads, you can become complacent having a mediocre website. When it comes to growing organically, you need to think differently. It is best to focus your business on building citations, localized content, and getting information out to the masses making triggers that the search engines will notice. Key areas that we focus on are:
Customizing existing content to include local community triggers.
Creating new content written to show you are the expert and best in your industry.
Push the information out through press releases.
Promote those press releases and generate local content to appear on the Google News Network.
Technical SEO Audits
When looking at your local SEO, you need to make sure your website stands proud with the best foot forward. This covers the pictures and content of the web page but also the backend that people don't see. A technical SEO audit dig deep looking for every possible improvement you can get. This includes items like:
Core Web Vitals - Core Web Vitals are a set of website quality metrics based on the user experience. These metrics are considered by Google when measuring website satisfaction. This includes:

LCP (Largest Contentful Paint) measures the main content loading speed.
FID (First Input Delay) measures how long it takes for the website to respond when a user clicks on something.
CLS (Cumulative Layout Shift) measures visual stability during page loading.

Site and page load speed
Duplicate content within the website
URLs with duplicate page titles
Missing descriptive text on images and links
Broken links and images
Image optimizatios
Spelling errors
Localization issues
Mobile optimization
META data
Browser compatibility
Security
Caching and Content Delivery Networks (CDN)
Updates and Website Improvements
Updating titles, descriptions, keywords, and content is only part of the picture of keeping information accurate on the search engines. Key areas we work on every week for you are:
Patches for plugin performance and security
Security updates
Content updates
SEO optimization based on the search engines current recommendations and best practices
Analytics, Datamining, and Improving Your Website
Each week we look at data to analyze how your website is currently being used, how we can improve the lead conversion of your visitors, and implement those changes. We look at:
How many people are coming to your website, and what devices are they using your website.
What pages they are looking at and how they interact with those pages.
We look at how far they are scrolling on pages to determine if we have the right balance between content/images and the overall length in helping them to become customers.
We use heat mapping software to analyze where the eyes of the visitor are at on the screen to increase the overall engagement of your website visitors.