Many companies will tell you what pages are being used on your website and that is a great start for any analysis of your web pages. With JM2 Webdesigners we take that information to the next level by letting you see not only where people are clicking, where they are scrolling but actually playback their sessions as if you were watching them. There are many solutions out there that will give you heat maps like our solution. Our solution provides you with these great features.
Live Online Chat - With live browser view to see what pages a user is on
Screen Recordings - Visually see in real-time how your website was used for a given session
Online Polls - Gain critical insights from your customers
Form Analytics - See how the forms on your website are converting
Heat Maps - Two heat maps are shown below. There are four in all
Conversion Funnels - Conversion Funnels let you quickly see where people abandon a process on your website such as checking out or creating an account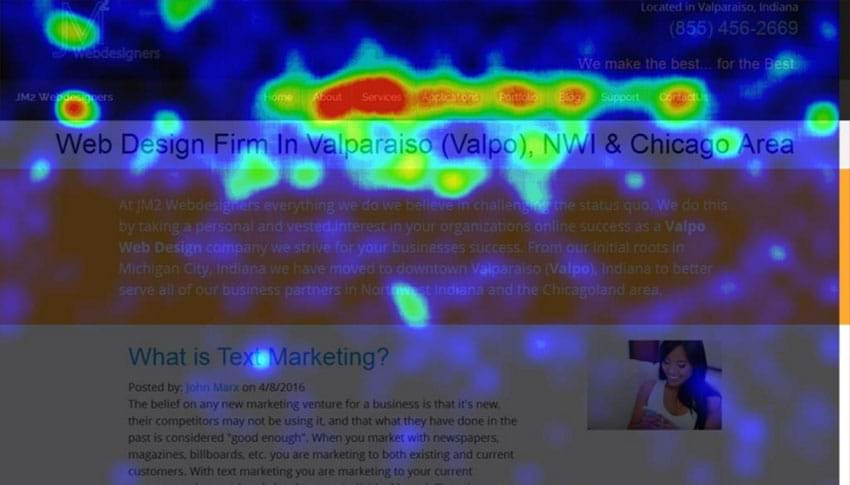 Mouse (Eye) Movement
When a user moves their mouse it is accepted that this is where the users eye is looking as they follow the mouse on the screen.
The brighter the color shows where the mouse has moved while users were interacting with your website.
Scroll Depth
Long pages can be good for providing a lot of information. Many users don't always scroll to the bottom of a website even though we wish they would.
How many people read the information at the bottom of your page? With our scroll depth heat map, we can provide you the information to assist in moving content up that you want more people to see.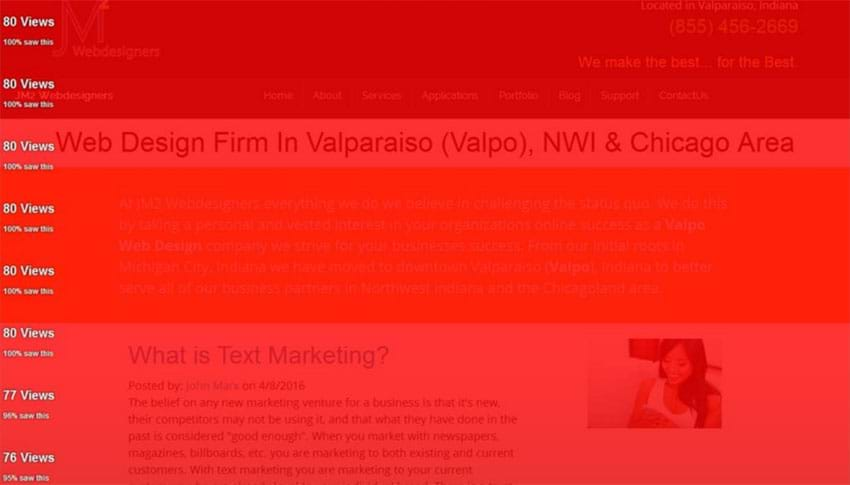 There are many programs out there that can give you some of the insights that we provide. Our solution takes your customer service to the next level of effectiveness. With our solution you have have options. The solution yourself and you maintain it or you can use our team to provide real-time support. Whether the support is during regular business hours or even after hours. Our team is committed to helping your business grow.
Conclusion
Growing up I always heard that "knowing is half the battle". Well, today with the use of Google Analytics and our solution you can know the other half and proivide some truly great customer service. It is one item to have a website for your customers. It is a completely different item to provide a solution to assist your customers. JM2 Webdesigners of Northwest Indiana is committed to not only building truly great website but providing a value and service to your customers through your website is where your service can shine.
To learn more about how our Valparaiso (Valpo) Indiana office can provide a great customer service for you contact us through our online form here, email us at sales@FawkesDM.com, or call us at 219-229-1633 and see how together we can take your customer service to a new level.
{{BLOGDETAILVIDEO}}