As a web design and becoming more everyday a marketing company we find that color theory is in our life more each and every day. When reading an article this morning we found the ugliest color in the world; Pantone 448 C. This color according to studies can actually persuade users to stop smoking and more. So what can the ugliest color in the world do? Read on and find out how color can play a part in your life whether you living in Indiana, United States, or even Australia.

Can color really discourage you?
Colors can breed happiness, sadness, and in the case of Pantone 448 C discourage people from smoking. The color is a green-brown shade that has been found to discourage people from liking things. There was an actually study sanctioned by the Australian government who hired a research agency called GfK. This study took over three months, seven studies, and more than 1,000 regular smokers to come up with the most offensive color to print with health warnings to try and get people to stop smoking.
What's in a name?
When the Australian government announced the color selection it was announce as "olive green" and then changed to "drab dark brown" as the official name from the Australian government. In doing our research on the color we also ran across "puke green" referenced for a name. The name alone made us not want to even want to touch the color.
With the announcement Ireland, the United Kingdom, and France who have recently passed "plain packaging" laws for smoking are now incorporate Pantone 448 C as part of the brand marketing as an extra incentive to prevent people from smoking.
When we started looking at the colors our first indication was that the color was similar to that of colors the military used for camouflage. These colors are not designed to be pretty but to blend in with the environment around them. In fact, when looking at http://rgb.to/hex/4a412a we found that the color online wasn't as bad as we thought it would be.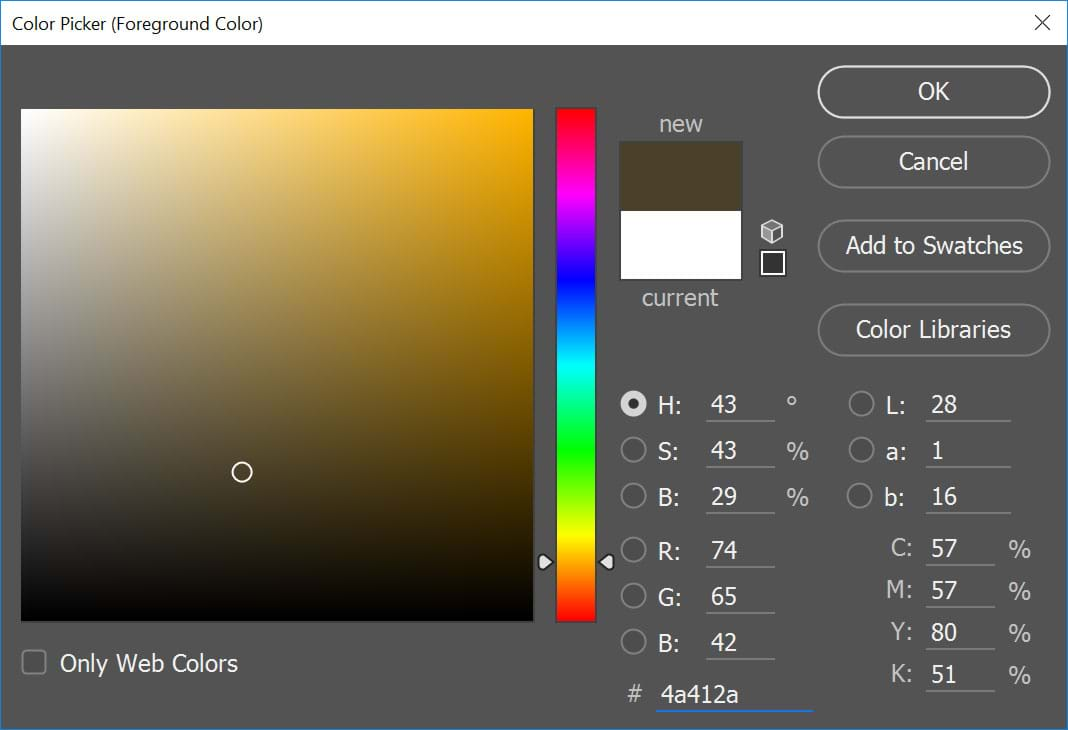 Speaking of the web what about websites?
Being our core focus is making beautiful online marketing and websites we did a search for RGB color code #4a412a and found no websites that use this color. This doesn't mean others are not using it. They just were not in the first five pages of Bing, Yahoo, or even Google. Will the mandate on cigarette marketing overseas become a requirement that their websites need to be in this color scheme? If so, we can see some
Conclusion
We will be seeing more articles like this one around the web talking about the merits of color theory by industry leaders and upcoming leaders. We have always embraced color theory and as we do more print and electronic combined branding color theory for us is ever more important and should be for any business that wants to have consistency across multiple platforms. Embrace Pantone 448 C for what it is. It's a color that has a deep feeling for many of us in the business of color. Happy, sad, or a discouraging color this color will now become quite famous for potentially saving hundreds, thousands, maybe millions of lives.
If you want to have help with colors, websites, or branding JM2 Webdesigners in Northwest Indiana is ready and willing to help your business grow. You can reach us at 855-556-2669, email at sales@FawkesDM.com, or use our online contact form here.
{{BLOGDETAILVIDEO}}