Restaurant, Cafe, Coffee Shop & Food Truck Marketing Solutions
If you are selling food, you know that people checking your web site are hungry, but they are looking for much more than just sustenance, they are seeking a dining experience – no matter whether it is an inexpensive hot dog bought from a food truck or a gourmet, white table-cloth fine dining experience.
They are buying ambiance, creativity, convenience and quality… and you can demonstrate all that with a web presence designed, built and maintained by The Fawkes Digital Marketing. Your online experience will entice and delight by informing the hungry about specials, events, and excite them to return often.
Give The Fawkes Digital Marketing a call, peruse the Yeti's menu of creative and knowledgeable services… it's delicious!
Core Features
Restaurants, Cafe, Coffee Shop, and Food Trucks need a solution that helps them educate, inform, and provide valuable information to those visiting their site so that they want to purchase from them. We offer a solution that can track visitors and keep your customers consistently informed of your specials, events, and give them a reason to come back often. Our solution specializes in the food industry and knows you not only need a practical solution but one that helps make you money.
We want to start out that you own your site, your social media, and everything related to your business. We will not lock you into our services or hold your business "hostage".
Enhanced menu functionality (we might include a PDF of your menu but that is NOT the focus as our goal is to get your business seen in the best light on the search engines

Completely customizable
Picture with every menu item
Menu information (food alergies, calories, hot & spicy, etc.)
Unlimited food items
Customizable for every food group (Drink, Food, Appetizer, etc.)
Show as a featured item in a homepage (or other page) rotation

News & Events to showcase events, popup events, etc.
Make certain all paths to find everything are never more than three clicks away.
Fully responsive for a great mobile experience.
Defined "personas" of who your visitors are and making certain each persona can easily be used within the site (e.g. the start to lead generation to make you more money).
Striking look-and-feel without a gazillion animations that distract the visitor from getting the information they need. We help your visitors get on, find what they need, and move on with their fast paced life.
Analytics so that you know what pages are being used, how they're being used, and even where people are clicking on the site for further refinements.
Social media sharing options.
Full integration with your online ordering solutions and making certain everything conforms to the standards you need.
Testimonial integration to showcase how great your establishment is and why others should visit.
Fast loading and optimized with the latest Internet standards.
Online Ordering & Table Reservation
Since 2013, we have been working with restaurants to provide the best online ordering solution. On top of the ability to display your menu on your website we can provide an online ordering and table reservation system built into your website that will integrate with any tablet or mobile device at your location with you having full control.
One FLAT monthly fee and NO per order fees
Website Integration
Facebook Integration
Works with or without your point-of-sale (POS) system
Table Reservations
Promo and coupon deals
Simple checkout
Detailed administrative reporting options
Re-marketing campaigns
Optional

Accept credit cards or PayPal directly when ordering
Advanced Promo and coupon deal marketing
Custom branded mobile application on Apple or Android
Sample Menu & Table Reservation
Food Ordering for Websites & Facebook Pages
Complete online ordering for websites
Native ordering for mobile browsers
Online ordering snap-in inside Facebook
White-label design, suitable for any website
Compatible with most website builders
Table Reservations
Table reservations module for websites
Table booking with ordering in advance option
Reservations received and confirmed in real time with the order taking app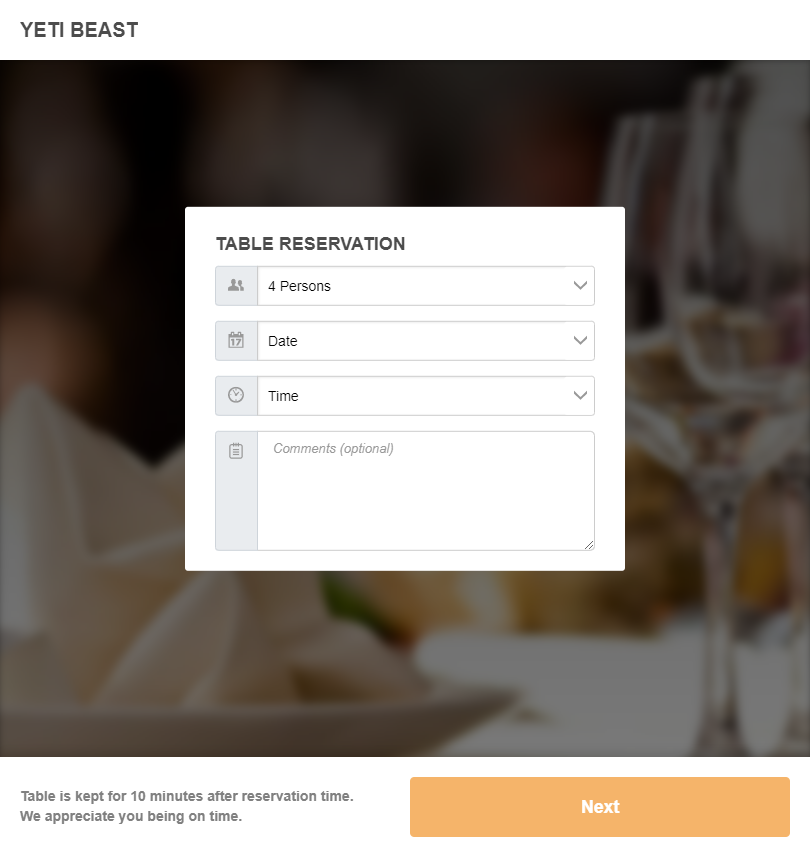 Ordering apps for food clients
Native apps for Android or iOS devices
Optimized for smartphones and tablets
Same real time-ordering as on web
Pay food online, in-app
Save my addresses
FoodBooking Club
Shared app with other restaurants
Based on a curated list of restaurants
Referring restaurant is shown first when its recommended clients start the app
Restaurant Branded App (Optional)
Only one restaurant brand with all its locations
Personalized logo, slogan and background image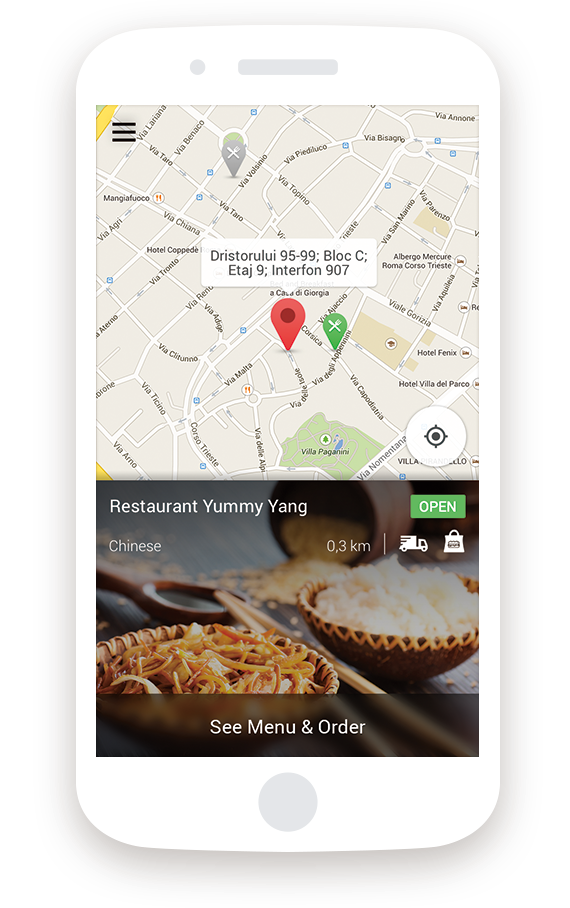 Marketing That Works!
Receive your
free
no obligation digital marketing consultation
24/7/365 Customer Support
100% U.S. Based & Veteran Owned Business
Contact Us
Online Ordering
Visual, drag & drop online menu editor
Support for uploading own images, plus a generous collection of food images available to use
Customizable food items: sizes, choices and add-ons with multiple select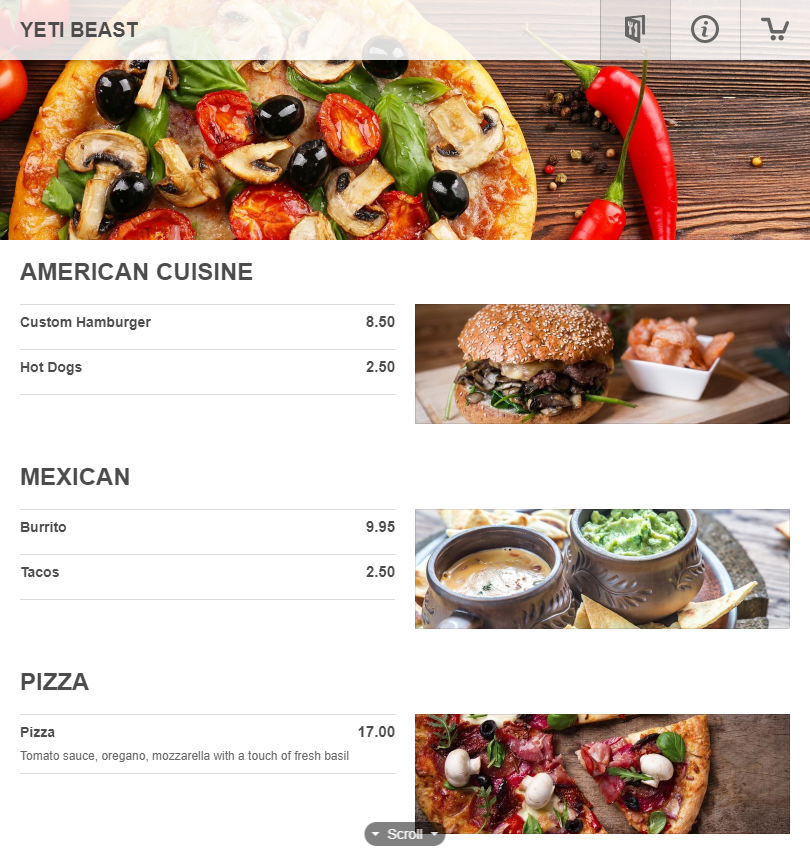 Checkout
Single page checkout
Data auto-fill for returning customers
Real time confirmation of the order
Ready for promos with/without coupons
Order Taking App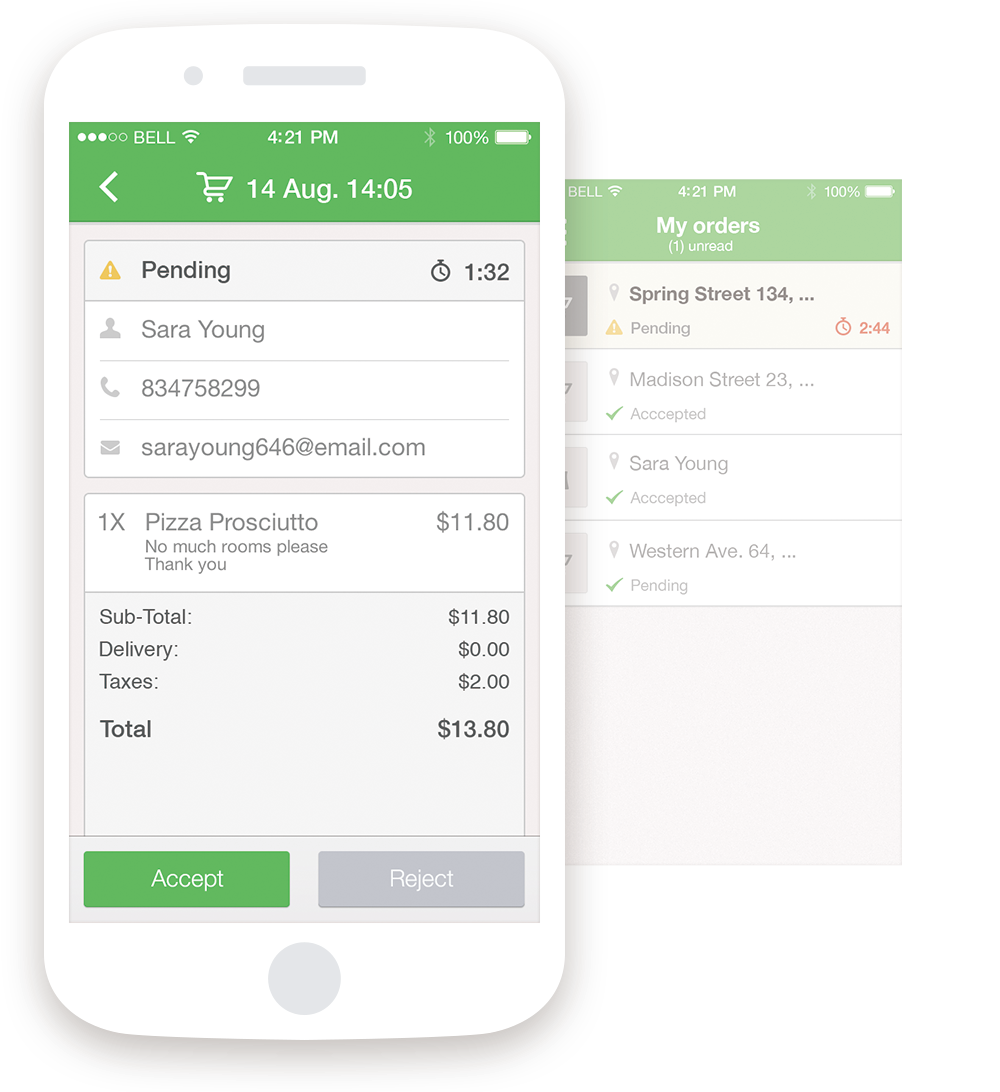 Restaurant app for receiving orders in real time
Working from smartphones and tablets
Available for Android and iOS
Visual and audio notification on new order
Easy review of customer and order details
Real time confirmation of the order and fulfilment time
Multiple Alerts when the ordering app is not reachable
SMS auto-print support
Thermal Printing directly from the app (works with compliant Epson, Seiko and Start models)
Admin Panel
The most restaurant-friendly admin panel
Works for pickup and delivery
Multiple opening hours for delivery and pick-up
Delivery zones settings with circles or polygons
Minimum order and/or min delivery fee options
Order for later with scheduled fulfilment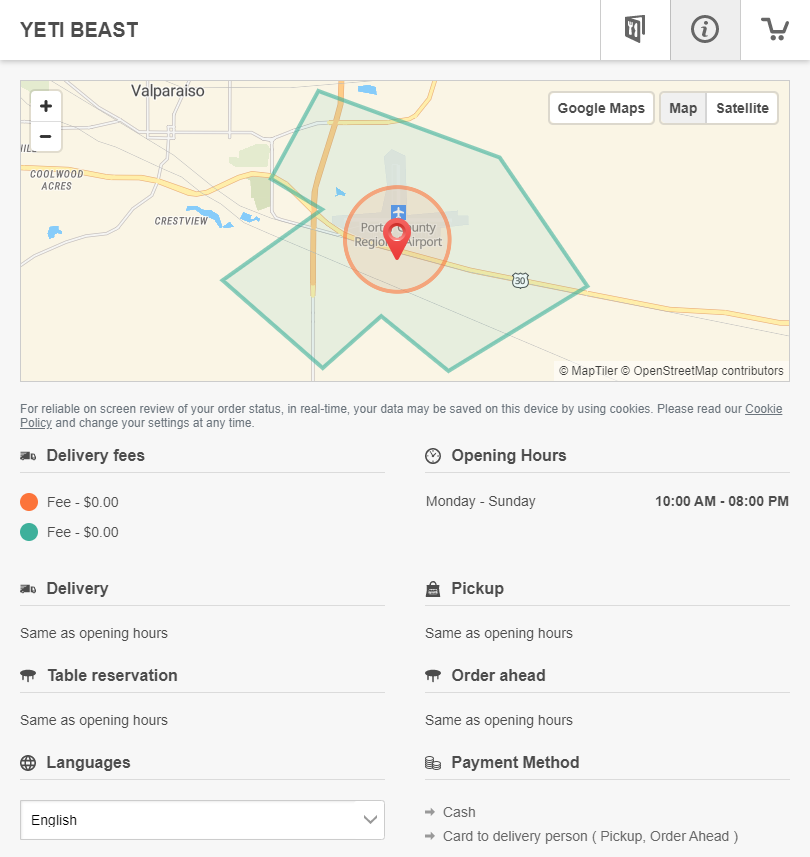 Online payments, cash and other payment options
Support for tips (on online payments)
Sales optimized website builder
Ordering stats, delivery heat-map, clients and orders lists (with data export)
Promotions engine: 11 templates, coupons support, customers segmentation and targeting
Multi-location support
Multi-language support
Website Ordering Widget
The widget will add a "See MENU & Order" button to your website and start sending orders your way.
Mobile Ordering
Our online ordering works also for mobile devices. Your customers can conveniently order from anywhere they are.
Facebook Ordering
This app adds an "See MENU & Order" button to your Facebook page so your fans can order directly.
Table Reservations Widget
The widget will add a "Table Reservations" button to your website so that customers can easily book a table in advance.
Detailed Reports
Take business decisions based on relevant data from the reporting dashboard.
Real-time Ordering
We keep your customer engaged while you review the order and display the order confirmation in real time
Order Ahead for Reservations
When enabled, this feature allows customers to order food in advance when making a table reservation.
Order for Later
Allows you customers to order now and schedule a later pickup or delivery. This way you can take orders 24/7 and make money while you sleep!
Run a Promo or Coupon Deal
Set-up almost any promo logic you can think of. Now it's time to run that promo you've always wanted.
Online / Credit Card Payment Service
Connects the ordering system with your payment gateway. This way you accept online payments directly into your account (the money does not pass through us).
Available Payment Providers
Credit card processors will have a fee of their own. This is directly with them at the rate you've negotiated/signed up for.
Stripe
Adyen
Authorize.Net
Braintree
CardConnect
Elavon
First Data / Payeezy
Vantiv
nmi
Propay
Stripe
USA ePay
wepay
worldpay
PayPal
Advanced Promo Marketing
Run multiple promos like a pro. This paid plan allows precision selling through client segmentation and target profiling, in order to achieve and track multiple marketing goals.
Branded Mobile App
We recommend a branded app to those food clients looking for a native installation on their smartphones or tablets. This restaurant app includes app store listings with your logo branding. This single app will handle all of your locations or you can purchase for individual branded locations as well.
Point of Sale (POS) Integration
Being we are software developers we didn't leave off the possibility of integrating with your POS system for instant order integration. Based on your POS we can integrate the following features for you:
Orders
Delivery
Table Reservation
Order Ahead
Marketing That Works!
Receive your
free
no obligation digital marketing consultation
24/7/365 Customer Support
100% U.S. Based & Veteran Owned Business
Contact Us
Desktop, Tablet, Mobile, & Social Media Friendly Design