Beyond the Overview: People

Our last section is covering "People". This is what social media is all about. Knowing genders, ages, proximity to your business is all about engagement with these valuable people. They have liked your page and are interested in learning about your products and services. Each of your fans has an interest in your business page or they wouldn't have liked it to become a fan of your page.
Your Fans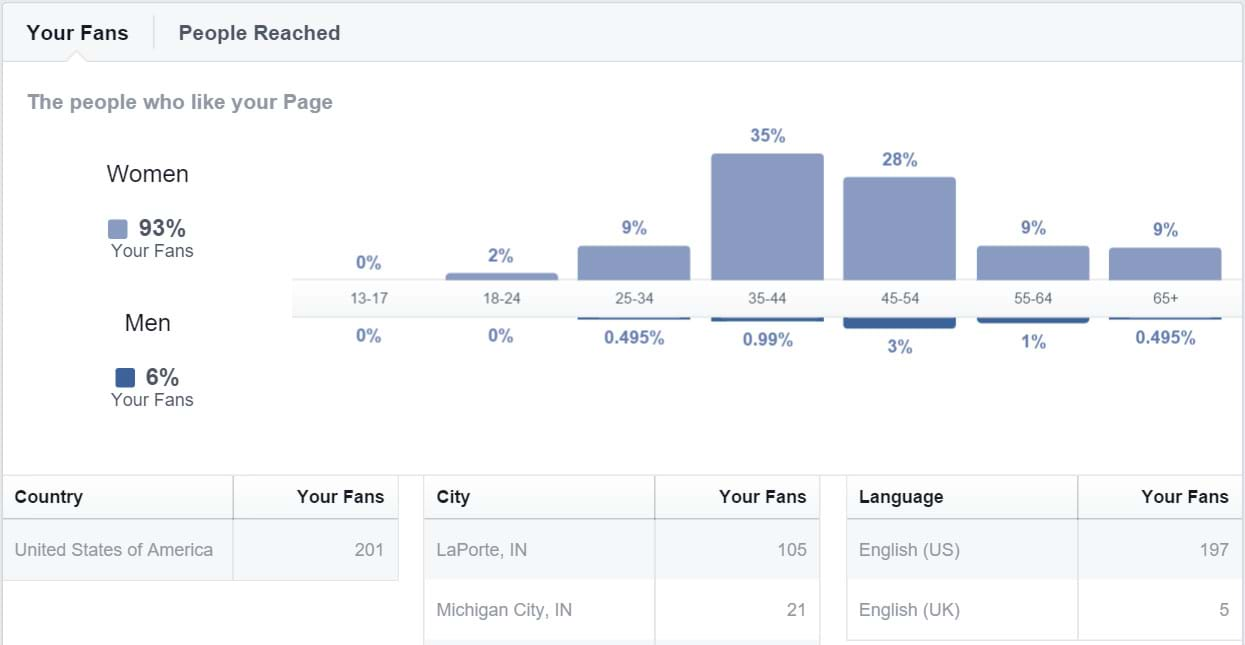 Our first tab is Your Fans. Here you will not only find on how many female compared to male fans you have. You will see age breakdowns, your top countries, top cities, and the top language that your fans are speaking.
People Reached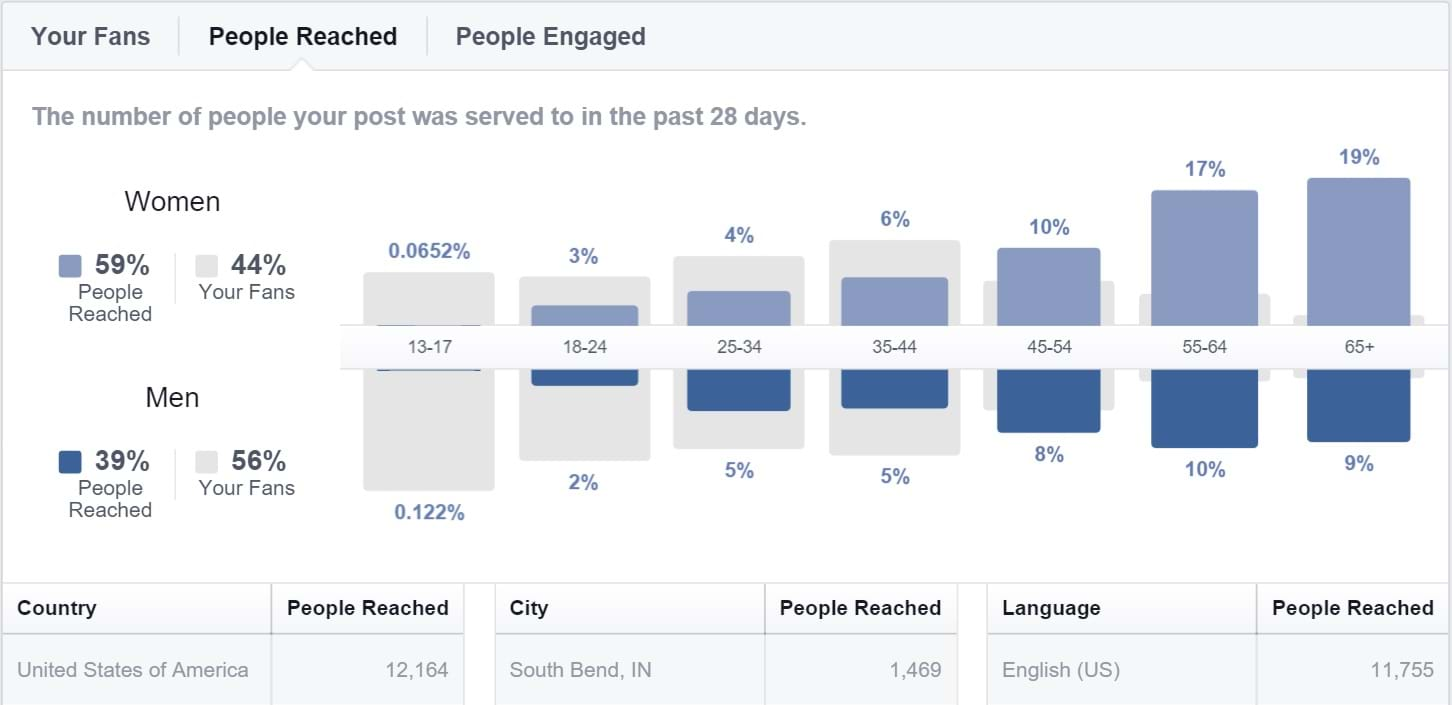 Although you have many fans which one of those fans are you reaching. These numbers are not always the same and are shown for the past 28 days. You may have 3% friends that are in the 35-44 age bracket while 6% of them are being reached. How is this even possible? It's actually quite simple. As your posts are shared you are reaching outside of your fans. This is where social media engagement hits it's magical peaks. This is where the realm of virtal posts comes into place.
People Engaged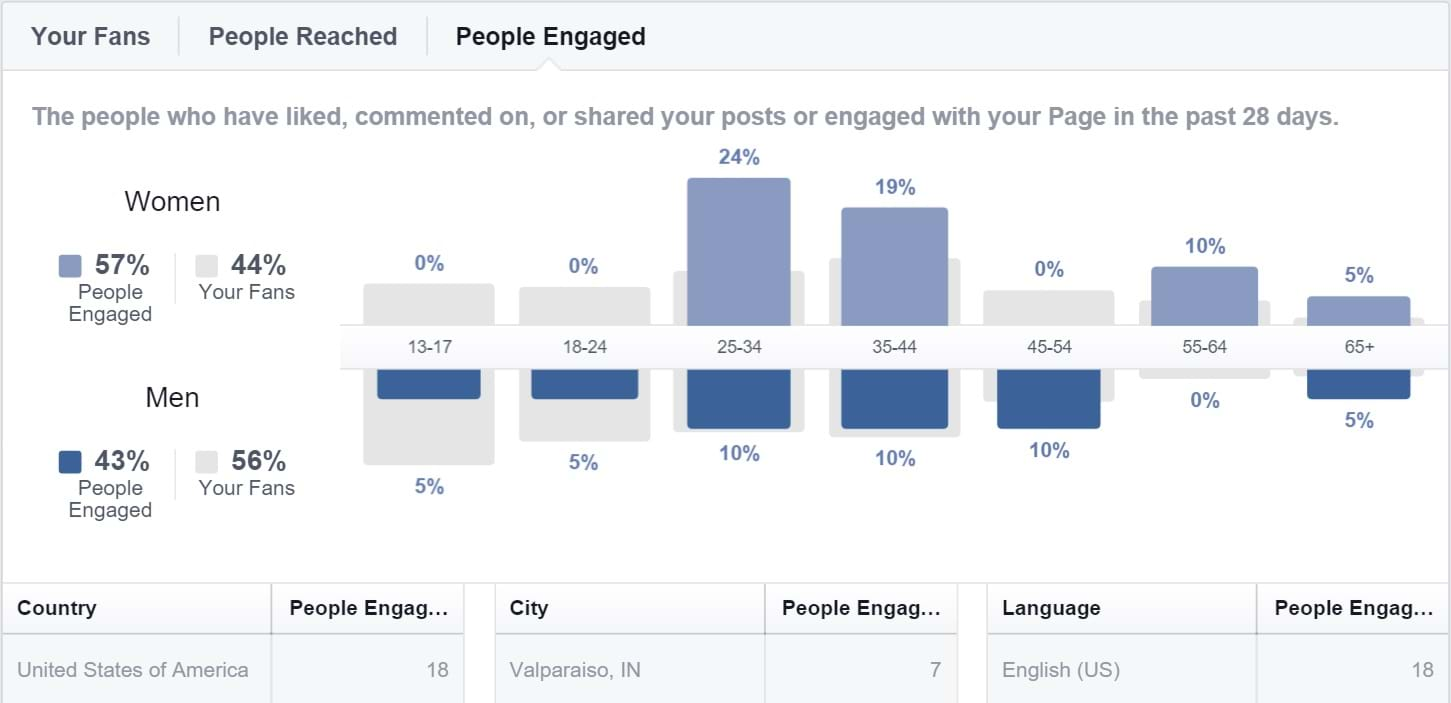 Engagement are the people that have liked, commented, or shared your posts within the past 28 days. Engaging with your fans and beyond is your ultimate goal. Depending on who you are targeting some of these numbers will be good and others bad. By focusing on the areas you are targeting you will gain more engagement and better results from your postings. Although engagement with your customers is important as a business owner this engagement also needs to equate to the ulmighty sale.
Conclusion
As we continue on our journey through the analytics of Facebook we're hoping you can see how valuable this information can be. By knowing your audience and changing to their needs you will be able to better serve them and increase your overall reach organically rather than having to always pay to reach your business objectives. If you would like some help in helping your customers or are so busy (we hope so!) and need someone to help you on your social media JM2 Webdesigners is here to assist you. You can reach us at 219-229-1633, through email at sales@FawkesDM.com, or through our contact form here.
{{BLOGDETAILVIDEO}}